Owners
Mia and Whitney Troy-Vowell encountered the same conundrum many pet parents face when forced to leave their dogs for any period of time… they had to find the perfect place to board them, as several of their dogs had special behavioral and medical needs. After trying a few options in the area, from daycare to in home boarding, they continued to have trouble finding a reliable option when it came to the care of their dogs.
Shortly thereafter, with the support of her husband Whitney, Mia decided to leave her decade long career in the realms of marketing, advertising, public relations and communications to open Oh my DOG. Because Mia and Whitney had such high standards for just the right facility for their dogs, they are in a perfect position to provide you with the quality dog care that you expect for your babies.
Mia graduated with a BSBA, majoring in marketing, from the University of Denver's Daniels College of Business. Mia can be found working the front desk at OMD on most afternoons, in her spare time she enjoys spending time with her own dogs and reading.
In an energetic, enthusiastic and compassionate manner, Whitney brings many years' worth of experience and knowledge from his background in human services and work in general construction; all of which combined have been instrumental in his success working with dogs, as well as a business owner. Whitney is a proud husband, father, and dog-lover, and in his free time enjoys spending with his family at home.
Staff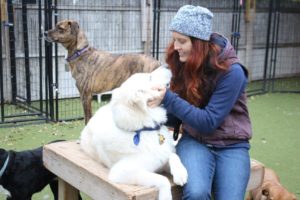 Lauren
It is a dream come true to work at a place where I get to hang out with dogs and dog people all day! My favorite part of working at Oh My Dog is learning all the different dog personalities and especially connecting with the older dogs who need a little extra love. Outside of work, I love traveling, eating good food, reading, and exploring the outdoors with my wife, Theresa. We have a pyrenees/lab mix named Oates, who thinks he is athletic but is really just a big dork. I feel lucky to have found such a wonderful community of dogs and humans at OMD!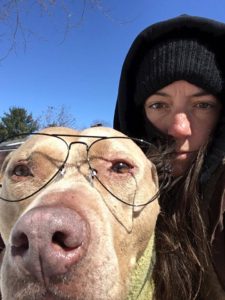 Ali
I've worked as a daily dog walker in Atlanta and Brooklyn but OMD is my first doggy daycare. Working here is actually more fun than walking pups because our objective here is healthy play or relaxation! Ive learned a lot because I get to watch dogs be dogs every day and getting to supervise their fun is always hilarious. When I'm not at work I make art and tend to houseplants. I also have a wonderful dog named Amos.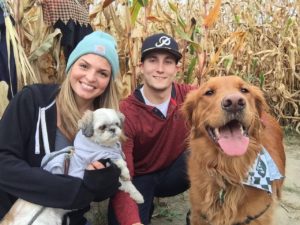 Elyse
What I like most about working at Oh My Dog is getting to work with new rescue dogs. The ones that are shy or need a little bit more time to open up to you. I like to work to build that relationship with them. My boyfriend Dan & I have two dogs, Kahlua(Shih Tzu) and Maximus (Golden Retriever). They are our children & spoiled rotten, haha. In our spare time, we love to go do anything outdoors with our pups…our favorite is swimming.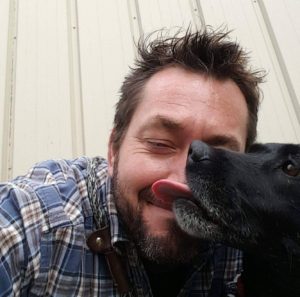 Tyson
I started working with dogs in early 2001, but the most lovely experiences by far have been at OMD. My favourite part of the day is inspiring confidence in a dog, getting the shy kids to express themselves and play their sweet faces off! I love to bring the new guys into the yard and get them moving towards some excellent new friendships!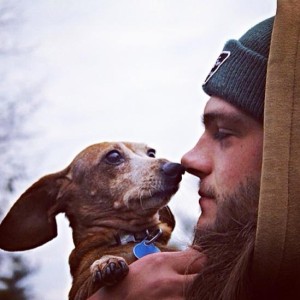 Tyler
What I like best about working at OMD is the fact that it rarely feels like "work". You're seeing important, sometimes difficult tasks through, but you're more likely than not to have fun doing it. In my free time I try to skateboard everyday. I have two dogs named Sampson and Ari. They have more friends than I have.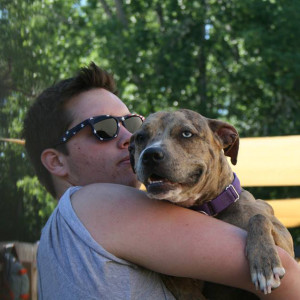 Ross
I'm an aspiring biologist at Eckerd College in Saint Petersburg, Florida, but I've returned home for the summer and have the pleasure of working at Oh my DOG! I've lived in Vermont for the past 14 years and this summer I've been working here and it has given me a glimpse at what a career in animal care might be like. In my free time I love to play volleyball. I have one dog and he is an Australian Shepherd, his name is Fergus.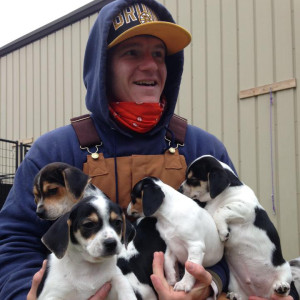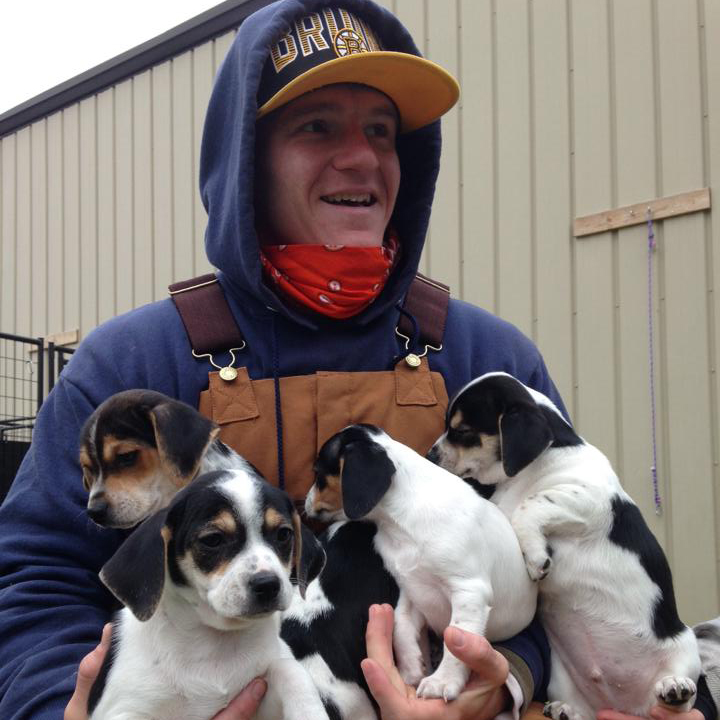 Blake
The thing that I like the most about working at OMD is the atmosphere and general work environment. Whit and Mia have established a very positive "we can do it" attitude with everything that's done at OMD. This positive vibe makes for a fun and very rewarding place to work. In my free time I very much enjoy being outside. I am sports fan so a good chunk of my free time goes to watching football, hockey, or SportsCenter. I have a longhaired lion lop rabbit named Gizmo and a cheagle puppy named Jack Daniels (seen in my bio pic under my right shoulder).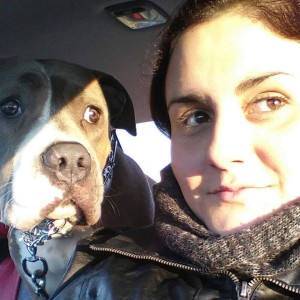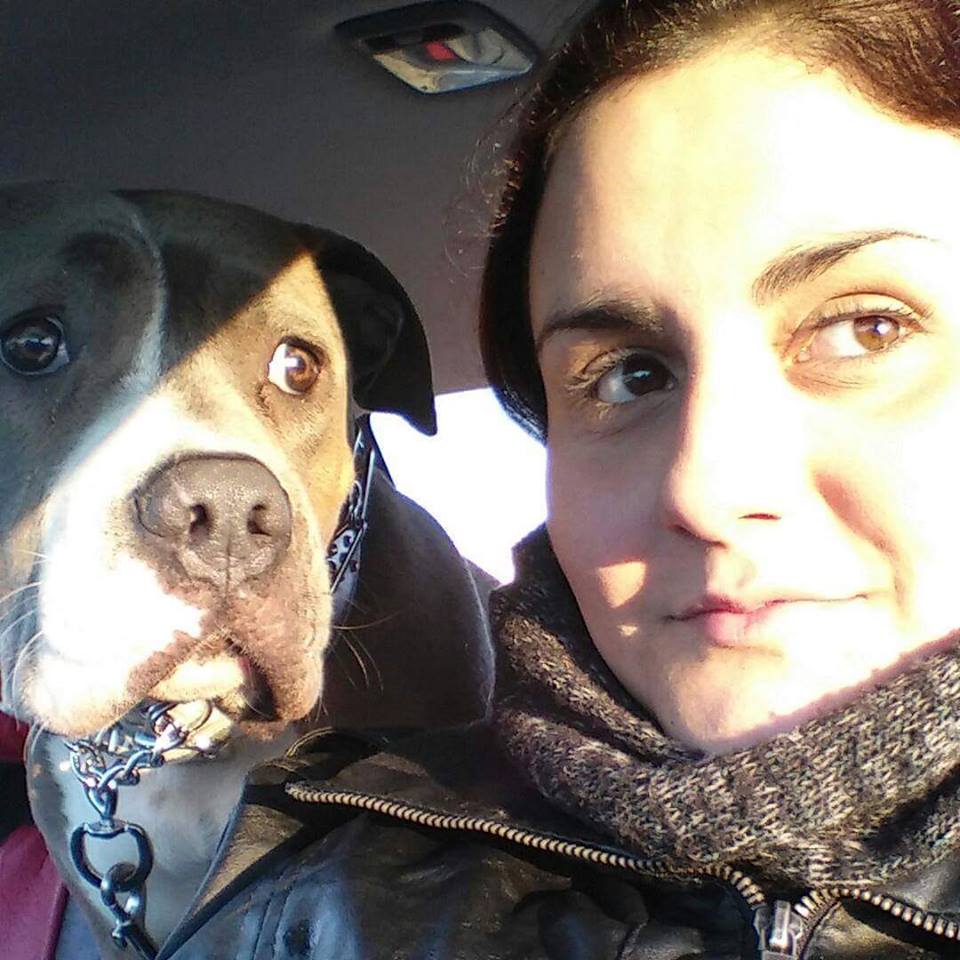 Tamara
Being a huge dog lover my entire life, it was only fitting that I work at a doggy daycare, and Oh My Dog was my number one choice. I absolutely love working here; I have some of the best co-workers, amazing bosses, and the dogs are so much fun to work with! I have two dogs of my own, Nala and Bella, they are my four-legged children. Outside of work, I like to hang out with friends, enjoy the outdoors, read if I ever get the chance, attempt to bake without burning down the house, doodle in my sketchbooks, and sing whatever song pops into my head.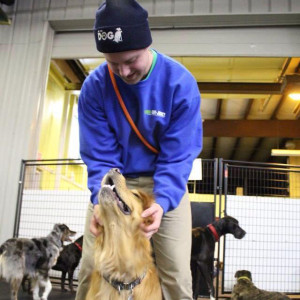 Carl
Getting to know each dog is what I like most about working at OMD. There are plenty of familiar faces each time I come in but lots of new ones too. It's extremely rewarding to manage a pack smoothly with a great crew each day. When I'm not working I'm either at the rink playing hockey in a men's league or relaxing talking dogs with my good friend Ben Draper. I don't currently own any pets but a dog is in my future.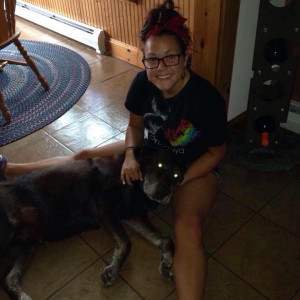 Amanda
My favorite part about working at OMD is definitely getting to know all the dogs and being able to work so closely with them. It's also a huge plus that my co-workers are amazing, I couldn't ask for a better team to work with. Outside of work I love to be active participating in outdoor activities and relaxing from my 3 jobs. I have a kitten named Fitzgerald (fitzy) who is the biggest trouble maker in the world! Hopefully I'll have a puppy running around soon!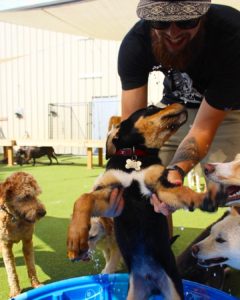 Joe
My favorite part of working at Oh My Dog is the amount of positive energy that everyone puts forward everyday, and how that positive energy is reflected in the attitudes of the dogs. Getting to meet so many dogs of all sizes, ages, and personalities is one of the most rewarding parts of my job. In my free time I enjoy hiking with my girlfriend, snowboarding, and spending time with my puppos. I have two dogs of my own, Stella is a pitbull mix who has the power to steal your heart with one glance, and Gruber is a very shy boy but he is the sweetest love bug.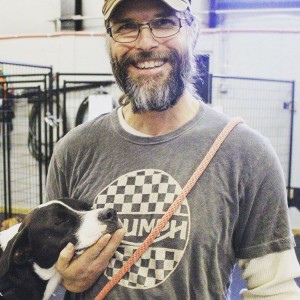 Sean
Working at Oh my Dog is like being a part of a family. Everyone brings positive and compassionate energy with them everyday. This energy is palpable and helps to create a calm and comfortable atmosphere for the dogs who are always happy to be there and see their OMD family. It's a unique and amazing work environment, although it rarely feels like work. When I'm not at OMD I enjoy riding and racing fixed gear track and single speed cyclocross bikes, and nerding-out on Grateful Dead. I don't have a dog right now (although I do have a few favorites), but it's inevitable. I love the retrievers and would like to get back to training and handling field dogs.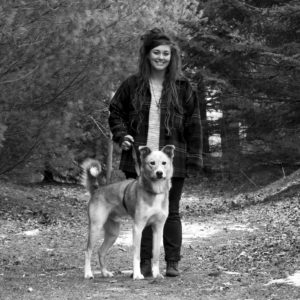 Sam
My favorite part of working at Oh My Dog is the positive and caring vibe that everyone has about them. Interacting and working with dogs daily is rewarding and leaves me with a smile on my face. In my free time, I snowboard, hike, mountain bike, and hang around in my hammock. I have a dog, Jericho, a husky/shepherd mix, three cats, Clawed, Mitchell, and Lou, and a beta fish, Nighthawk.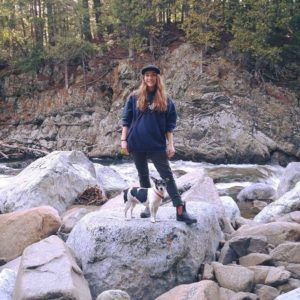 Shelby
I just love being with the dogs and getting to work with other amazing people who have the same passion for dogs that I do. I feel so lucky to be working at the best pet daycare in Vermont. It doesn't feel like work at all. All of my pets now live with my parents but they also live in Burlington so I get to see them all time. I have a rat terrier named Odie, two cats – Meeka and Georgie, two cockatiels Romeo and Jewel and a psychotic but lovable sun conure named Pita. I love being outside – doing everything or nothing. I often go for long walks through the woods with my dog and my brother's Australian shepherd. Sometimes, my parrot Pita even comes along. I also love long boarding, biking, snowboarding and hiking.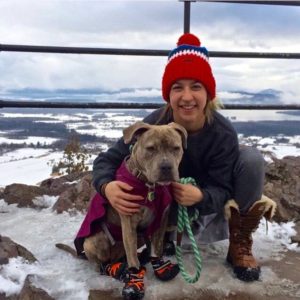 Izzy
The best part about working at OMD is that I am surrounded by spectacular dogs and inspirational people. I love getting to know each dog's unique personality, and I learn something new from my coworkers every day. In my free time I enjoy doing yoga, geocaching, eating good food, and hiking the beautiful VT mountains. I have one pup named Stella—a pit mix with the biggest heart in the world!