Owner
Whitney Troy-Vowell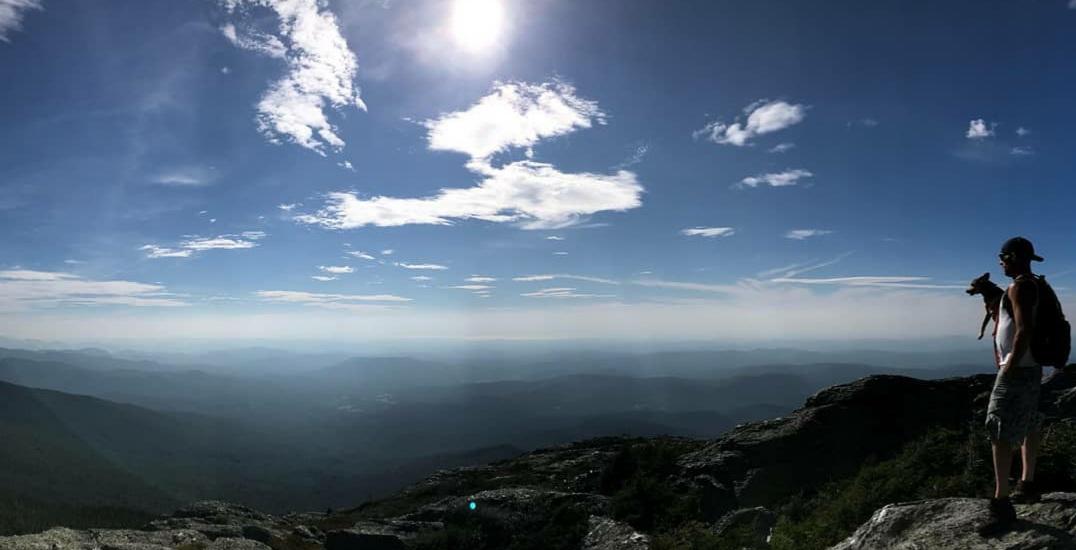 Since 2011, in a driven, energetic, enthusiastic and compassionate manner, Oh My DOG has been my life's work every day. I am so grateful for the multitude of experiences, connections, memories and relationships made over the years, and do my best each and every day to pay this forward. We started this little dog thing as a way to help out in the rescue world, both in care and transport of dogs coming up from the South; over one thousand saved and placed. And from those humble beginnings our community kept getting bigger and bigger, more vibrant and more colorful, and our ability to contribute to our local community grew along with it with our expansion into daycare, boarding, grooming and training services, and the ascent to where we are now.
Being a small part of a greater whole here in Vermont is indeed a beautiful thing, I am so elated to live here. I am so proud to share this experience with a collection of teammates I adore and treasure in my life, all of our wonderful clients I see daily, and of course all of the dogs! In my spare time, albeit it limited, I enjoy spending time at home with my daughter Soleil and our 14 senior dogs, listening to music and podcasts, watching all the birds I tend to, and finding comfort in the peace and tranquility of home. My goals for the future are still the same as when we started; to be the best we can be, focus on the journey and not the destination, make the biggest positive impact in our community, and just keep having fun doing our little dog thing.
Staff
Katelyn
I can't remember a time I didn't want to work with animals, especially dogs. Although it took me a while to finally step into this field, I can't imagine doing anything else now. Becoming part of the OMD team has been amazing and one the best decisions I have made. Whitney has cultivated such an amazing atmosphere for the crew and it feels great being around others who feel as passionately as I do about caring for these pups. The crew is full of kind and supportive folks who comes from all different walks of life. I feel blessed to be a part of it. My favorite part about working here though is bonding with the dogs. I enjoy getting to know all the their unique personalities and needs. I have a soft spot for the more anxious dogs. I love being able to support them and watch them learn and gain confidence. There is so much I have learned about myself from being around dogs as well, I'm so grateful I get to spend my time with them. When I'm not at OMD I'm likely taking photos of something. Photography is my other happy place; pets, nature, portraits and sometimes weddings are my usual subjects. You can also find me spending time with my own pets, my dog (Roxxie) and two cats (Edison & Hazelnut)."
Devon
Dogs have always been a part of my life, from my five family dogs growing up to my current dog. I watched and learned from all their different breeds, personalities, habits, and behaviors; that's when I really connected with dogs. After going to school for photography and working in the field I decided to take a break and work at a dog daycare local to me in Massachusetts. I loved working with the dogs every day and helping the dogs that needed extra care adjusting to the daycare environment. When I moved to Vermont I knew I wanted to continue to work with dogs at another dog daycare that provides a healthy environment where dogs can flourish and Oh My Dog is that place!  The dogs are relaxed and happy, they're allowed to play and chill at their own pace creating a healthy low-stress environment. 
When I'm not at work I'm out working my Elkhound Axel with Bikejoring, Skijoring, Canicross, and Urban Mushing. I am also currently working on becoming a dog trainer to help dog owners train and establish a stronger bond with their dogs.
Taylor
Finding OMD has been the greatest gift, I can't imagine working anywhere else. I love being a part of such a caring, passionate, accepting place, that provides such a safe and fun environment for all kinds of dogs. It's so rewarding being able to return a happy dog to a happy owner at the end of the day. I've had dogs my entire life, and I've always wanted to work with animals, so saying that's it's been a dream is an understatement. As well as being an enthusiastic dog lover, I am also a cat lover, and have my own cat, Loki, at home. When I'm not at OMD I like spending my free time with my family dogs Prada and Bandit, hiking, and baking.
Lauren
Growing up I was always surrounded by animals due to having a groomer as a mom. I've had a passion for dogs since day one. I knew when I grew up I wanted to work with animals without a doubt in my mind. Oh My Dog is the perfect place to further my career with animals and guide me with the best environment imaginable. Being an animal science major I'm so lucky to be apart of the OMD crew and learn so much more about dogs I never knew before. I can honestly say working at OMD is my dream job. There's never a dull moment with dogs which makes it new and exciting everyday. I have two beautiful pups myself, Hera and Stella, who I can't imagine life without. It's amazing to go to work and see all these dogs in their absolute glory. There is no way you can have a bad day being surrounded by happy dogs, not at OMD anyway.
Libberty
What I love about working at Oh My Dog is getting to know each of the dogs and what they are all about. I have always loved dogs and always had a family dog growing up, now that I get to work with them is amazing! The crew at OMD is very much like a family and I absolutely love that! The most rewarding part of this job is watching the dogs progress and gain confidence. It brings a smile to my face when I get to see the old dog engaging in some play or the shy pup who finally wanders over to say hi to me, it is such a good feeling. Outside of OMD I enjoy spending time with friends, family, and my three dogs Mustang, Raiko, and Pancake.
Jesse
Though I've only been working at OMD for less than a month, I have a few years of kennel/ daycare experience from other facilities. I went to school for furniture design but found myself wanting to work with animals. Like people, dogs have their own personalities and quirks and I enjoy getting to know each dog in a safe and clean environment where they can socialize and play together. I find it rewarding to see a shy or anxious dog become more confident over time. When I'm not working I like to play with my two dogs, Elmer and Bella Rose, or work on an art project.
Hanna
Oh My Dog is the place to be! There is a huge sense of pride that goes into knowing we are providing the absolute safest and most enriching environment for dogs to come socialize and play with other dogs. Every employee at Oh My Dog has something special about them contributing to us being an incredible team of dog loving enthusiasts. You can see the amount of care that everyone gives and it is the most rewarding and positive work environment I have ever been a part of. I acquired my dog grooming certification in 2012 which has taught me so many skills that I still use today and I have been working with dogs professionally since 2013 whether it be at other dog daycare/boarding facilities, grooming salons or at local animal rescues. Although I have a special place in my heart for poodles and doodles I love dogs of all kinds! My hobbies outside of Oh My Dog include dog sitting, spending time with friends and family, and being with my amazing dog Baby Girl.
Hannah
Hannah studied expressive arts therapy at Burlington College. With learning and exploring creative and unique outlets for ways to deal with stress, happiness and just everyday life she found that the most comforting and easiest form to connect with was animals, but more so- dogs. Hannah has 5+ years working with dogs. From learning experiences at other dog daycare facilities, volunteering, a kennel assistant and adoption counselor at Salem Animal Rescue, and the growing experiences at Oh My Dog.
Hannah says, "My favorite part about working at Oh My Dog would have to be the team that I am apart of, and of course. the dogs. Getting to know the personalities, and quirks about each pup that comes to visit us is so rewarding. I've always had a pull towards the more "socially awkward" nervous type. Seeing them open up and "get loose" over time is so special and creates such a strong lasting bond, Almost like a best friend.
Behind me, and all of that I have my team to thank. The communication, support, drive and passion we all share is what sets us up for success everyday a dog and client walks through our door. The team at oh my dog aren't just
my coworkers they are my family."
Within this short but expanding life of hers, she can proudly and confidently say that this is not just a job, its a way of life. Hannah has hopes to one day start her own small rescue to be an advocate and voice for dogs in need. For now, she enjoys her time with her Fiance, two dogs Linus and Dobby, and family exploring and eating her way around Vermont.
Jenny
What I like the most about working at oh my dog is getting to see so many sweet, furry faces every day! It's a wonderful feeling knowing that we can provide a safe, clean and fun environment for parents to drops their dogs off at and have the parents be comfortable while they are away. On days that I am not at oh my dog I enjoy getting a breath of fresh air and spending time with friends and family.
Taylor
I love working at OMD for one simple reason; I love dogs. The pups that I get to play with every day have taught me patience, love, kindness. And along with the dogs my co workers have shown me what it's like to work in an environment where I can be myself, wholeheartedly. Being part of this team has made my life a brighter place, and I can't imagine myself doing anything else.
Jeff
I have been working at Oh My DOG for over two years now, and I truly enjoy coming to work every day. Engaging with the dogs and their different personalities, as well as meeting new dogs coming in to join the pack, make this job fun and unique. I have always enjoyed being around dogs, and although I don't currently own a dog, I hope to in the near future.
Alex
I love working at OMD because the energy is positive, the people are passionate, and the dogs are happy. The environment is one I am proud to be a part of and I find myself learning new things every day I work. If the dogs are happy, I'm happy — and vice versa. One of the most rewarding feelings is working with dogs that are a little more shy or timid. Getting them to open up and be comfortable always brings a smile to my face and (of course) a couple of belly scratches to the dogs! I have one dog of my own, Skye, who loves hiking and and fetching sticks, and snoozing. Outside of work, soccer is a large part of my life, and I enjoy being out in nature in general — volleyball, frisbee, hiking, swimming. Anything as long as I'm with the people (and dogs!) I love.
Tyson
I started working with dogs in early 2001, but the most lovely experiences by far have been at OMD. My favourite part of the day is inspiring confidence in a dog, getting the shy kids to express themselves and play their sweet faces off! I love to bring the new guys into the yard and get them moving towards some excellent new friendships!
Blake
The thing that I like the most about working at OMD is that every day is a learning experience. Whit and Mia have established a very positive "we can do it" attitude with everything that's done at OMD. This positive vibe makes for a fun and very rewarding place to work. I have 5 dogs, two of which I have trained to hunt rabbits and one that is learning to hunt raccoons. I have learned a great deal about myself and the nature of energy by working and being around dogs all day. Dogs are my life and I love it! I was always surrounded by dogs growing up, I was always comfortable around dogs, but intimidated by dogs I did not know. That intimidation soon faded away after I starting working at OMD, I have learned to respect the nature of dogs and have gained an understanding of how they operate. Fear is simply not knowing! When I am not working I enjoy spending time with my family, my beautiful wife and son are my world!! I love to hunt with my dogs and going fishing, anything that will get me outside, or in the woods…Count me in!
Tamara
Being a huge dog lover my entire life, it was only fitting that I work at a doggy daycare, and Oh My Dog was my number one choice. I absolutely love working here; I have some of the best co-workers, amazing bosses, and the dogs are so much fun to work with! I have two dogs of my own, Nala and Bella, they are my four-legged children. Outside of work, I like to hang out with friends, enjoy the outdoors, read if I ever get the chance, attempt to bake without burning down the house, doodle in my sketchbooks, and sing whatever song pops into my head.
Carl
Getting to know each dog is what I like most about working at OMD. There are plenty of familiar faces each time I come in but lots of new ones too. It's extremely rewarding to manage a pack smoothly with a great crew each day. When I'm not working I'm either at the rink playing hockey in a men's league or relaxing talking dogs with my good friend Ben Draper. I don't currently own any pets but a dog is in my future.
Sean
Working at Oh my Dog is like being a part of a family. Everyone brings positive and compassionate energy with them everyday. This energy is palpable and helps to create a calm and comfortable atmosphere for the dogs who are always happy to be there and see their OMD family. It's a unique and amazing work environment, although it rarely feels like work. When I'm not at OMD you can find me racing Cyclocross, Triathlon, and nerding-out on Grateful Dead. I dont have a dog right now, although I do have a few favorites. I love the retrievers and am excited to be able to bring my knowledge of training and handling working retrievers to OMD's training program.
Shelby
I just love being with the dogs and getting to work with other amazing people who have the same passion for dogs that I do. I feel so lucky to be working at the best pet daycare in Vermont. It doesn't feel like work at all. All of my pets now live with my parents but they also live in Burlington so I get to see them all time. I have a rat terrier named Odie, two cats – Meeka and Georgie, two cockatiels Romeo and Jewel and a psychotic but lovable sun conure named Pita. I love being outside – doing everything or nothing. I often go for long walks through the woods with my dog and my brother's Australian shepherd. Sometimes, my parrot Pita even comes along. I also love long boarding, biking, snowboarding and hiking.