Training
Oh My DOG is unique in many ways, and our training services are no different. We believe in options and making sure your dog has every opportunity to succeed. Blake, Tyson, and Sean all have distinct outlooks on training, you'll find their bios below, offering a more detailed look at each of their practices. 
Tyson & All Who Wander Dogwalking LLC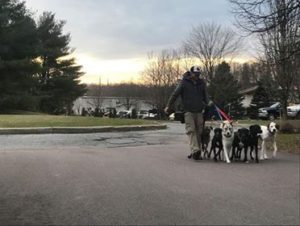 Tyson Phipps has spent the better part of two decades working with dogs en masse in his Adventure Pack Walks. Tyson has had great success in socializing, training and comforting dogs through his own unique brand of Leash Therapy. There are two types of walks:
Relief Walks that take place in the environs around OMD, which are smaller excursions that help relieve the pressures of boarding and daycare. Adventure Pack Walks are longer form outings that visit various locations in beautiful Vermont for a blend of trail-walking and street-training. Please visit All Who Wander Dogwalking on Facebook for more information, as well as photos of the walks themselves!